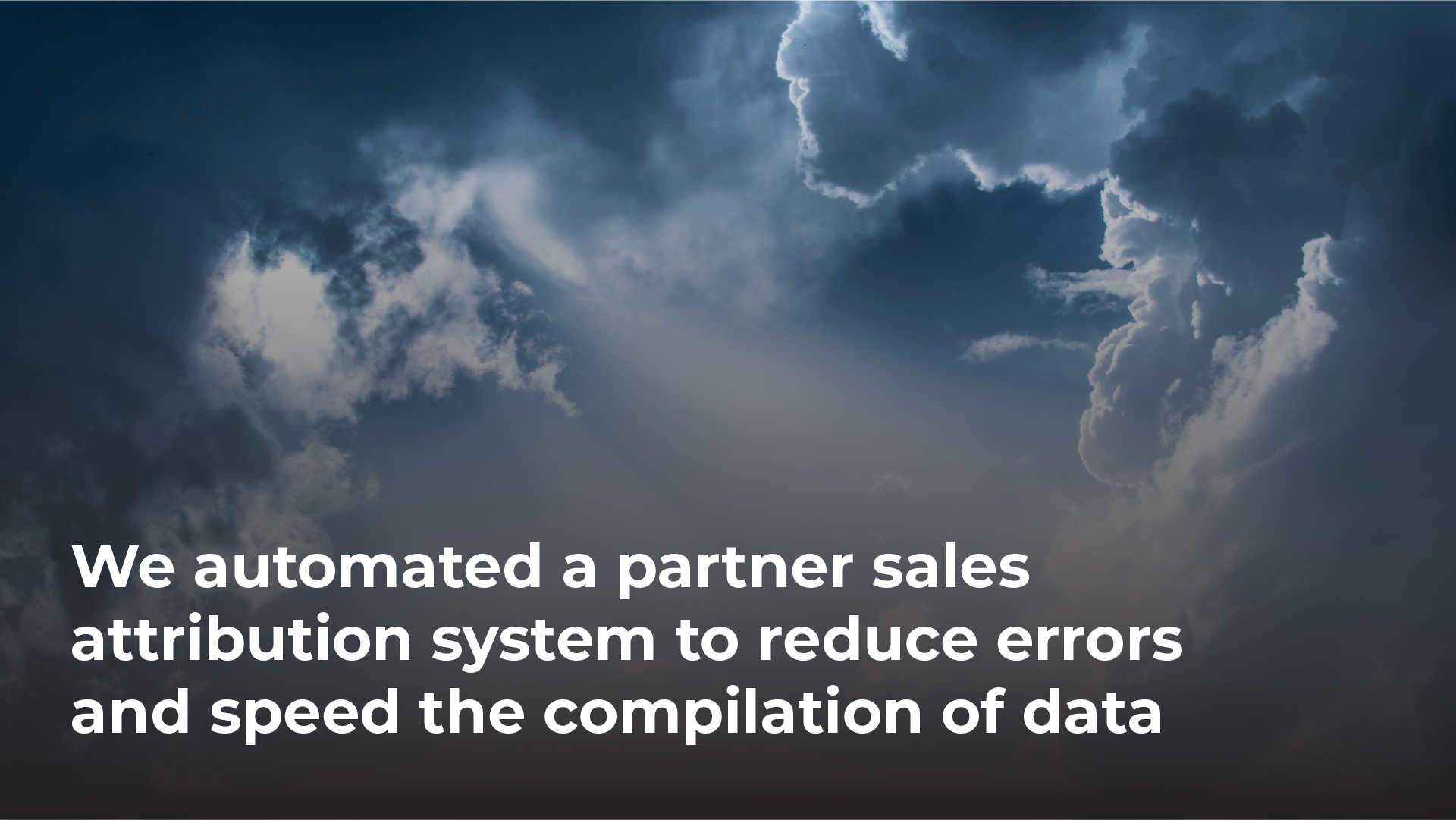 Key Challenges
•
Consolidate multiple upstream data sources into a single, scalable cloud architecture.
•
Automatically tabulate KPIs, allowing leadership to monitor data in nearly real-time.
•
Feed partner-specific data to individual partners, allowing partners to track relevant KPIs.
Manually Compiling Reports
Our client, a large software supplier, needed to automate their partner sales attribution system. Partner sales were tracked manually, which presented several problems. If our client wanted to identify how a product was selling with its distribution partners, the sales team had to compile the data from Excel worksheets. Compiling the information required a lot of time. The data was collected, validated, cleaned, and only then shared with the leadership team. An automated partner sales attribution system would save a lot of time.
The client's old approach of manually tabulating the data led to errors. The errors undermined the integrity of the conclusions drawn from the data. Sometimes the errors led to misattributed partner rebates. For example, when multiple partners were involved in the sale of a product, the old reporting approach incorrectly recorded multiple sales. In reality, partners had worked together on one sale. Our implementation needed to ensure partner rebates were properly recorded.
The client also needed to share partner-specific data with individual partners. The individual partner portal would allow partners to track daily operations, monitor certifications, and compare rankings with other partners.

Our Approach
We began the project by identifying the appropriate architecture. We proposed three architecture options to the client and identified the various pros and cons. The client then independently reviewed the architectures. Finally, we jointly selected the best architecture.
Next, we conducted several whiteboarding sessions with the client. We also invited other teams (sales and UX, for example) to evaluate which Power BI views were most intuitive to users.
The whiteboarding process also allowed us to review client requirements. We discussed various client needs, designed mock-ups, returned with the mock-ups, and received client feedback. After the client approved our final mock-ups, we began development.
After the requirements were defined, we started our sprints. We follow agile software development practices. We submitted deliverables as they were completed. Our client's leadership team revised KPIs and project requirements as we progressed.
No sizable project is completed without significant challenges. Three weeks before the launch of the partner sales attribution system, a critical component of our implementation was updated. To resolve the issue, we worked closely with the component's development team to update our implementation. We had one week for requirement gathering and two weeks for production.
Results Delivered on Time
We worked tirelessly to meet the project launch deadline. The lead engineer recalled how hectic the final three weeks of the project were: "We owe so much to our teams. They don't get bogged down, and if something needs done, it gets done."
The completed partner attribution Power BI portal accommodates over 50,000 daily users, consolidates data from over 50 sources, and delivers an array of nearly real-time information with less than five seconds of load time.