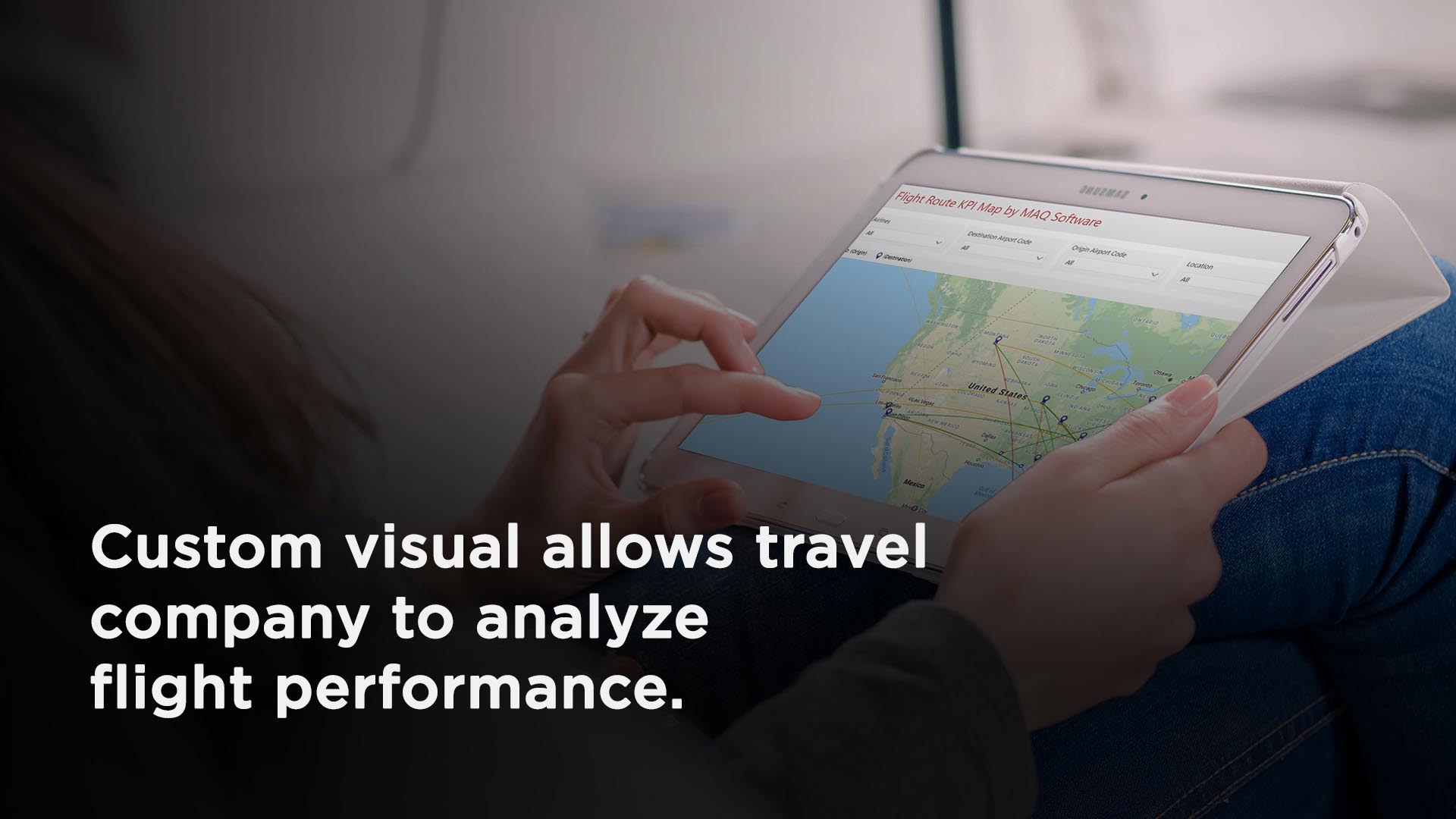 Key Challenges
•
Create a Power BI visual showing points of departure, total flights, and flight sources.
•
Enable airlines to easily view and compare key performance indicators (KPIs).
•
Create custom animation and straightforward interactivity for the visual.
An Innovative Visual
In 2018, one of our client's technical service providers approached us with a simple request: "Can you create a custom flight visual?" Our client, a large software provider, was in the middle of sales negotiations with an online travel company. Negotiations had broken down. The travel company didn't think our client's business intelligence (BI) service offered a significant advantage over a custom HTML solution. Our client's BI service allowed users to drill down into the data, interact with the data, and run queries. The travel company wanted to display flight routes and flight route KPIs simultaneously.

Our Approach
We needed to create a custom Power BI visual that showed the following information:
•
Points of departure and arrival
.
•
The total number of flights from an airport
.
•
The multiple destinations of flights from an origin (when applicable)
.
Prior to the creation of our custom visual, the online travel company didn't own a central data repository. Our custom visual allowed the online travel company to sell data to partner airlines. They used the visual and examined flight route health. The availability of the data enabled partner airlines to compare their key performance indicators (KPIs) against their competitors. Now, partner airlines could examine metrics—like average rate or on time flights—at all locations.
A Gradual Rollout with a Huge Impact
The travel company deployed the new custom visual gradually. The travel company first released the visual to two partners. The travel company then demonstrated the visual at an internal event for ten partners. Feedback was again overwhelmingly positive. Following the implementation of our custom visual, other business divisions within the travel company reached out to purchase the business intelligence service. Our client succeeded in selling the travel company their cloud computing infrastructure. The sale of cloud computing infrastructure deepened the relationship with the travel company. The sale also generated multiple sales leads from the travel company's partner network.
A Better Experience for our Client and the Travel Company
Because of our custom visual, our client was able to sell their business intelligence service to one of the largest travel companies in the world. Our client also succeeded in selling their cloud computing architecture and generated numerous sales leads across their partner network. The travel company centralized their data and sold the data to their partners. Centralizing the data improved the travel company's business performance.