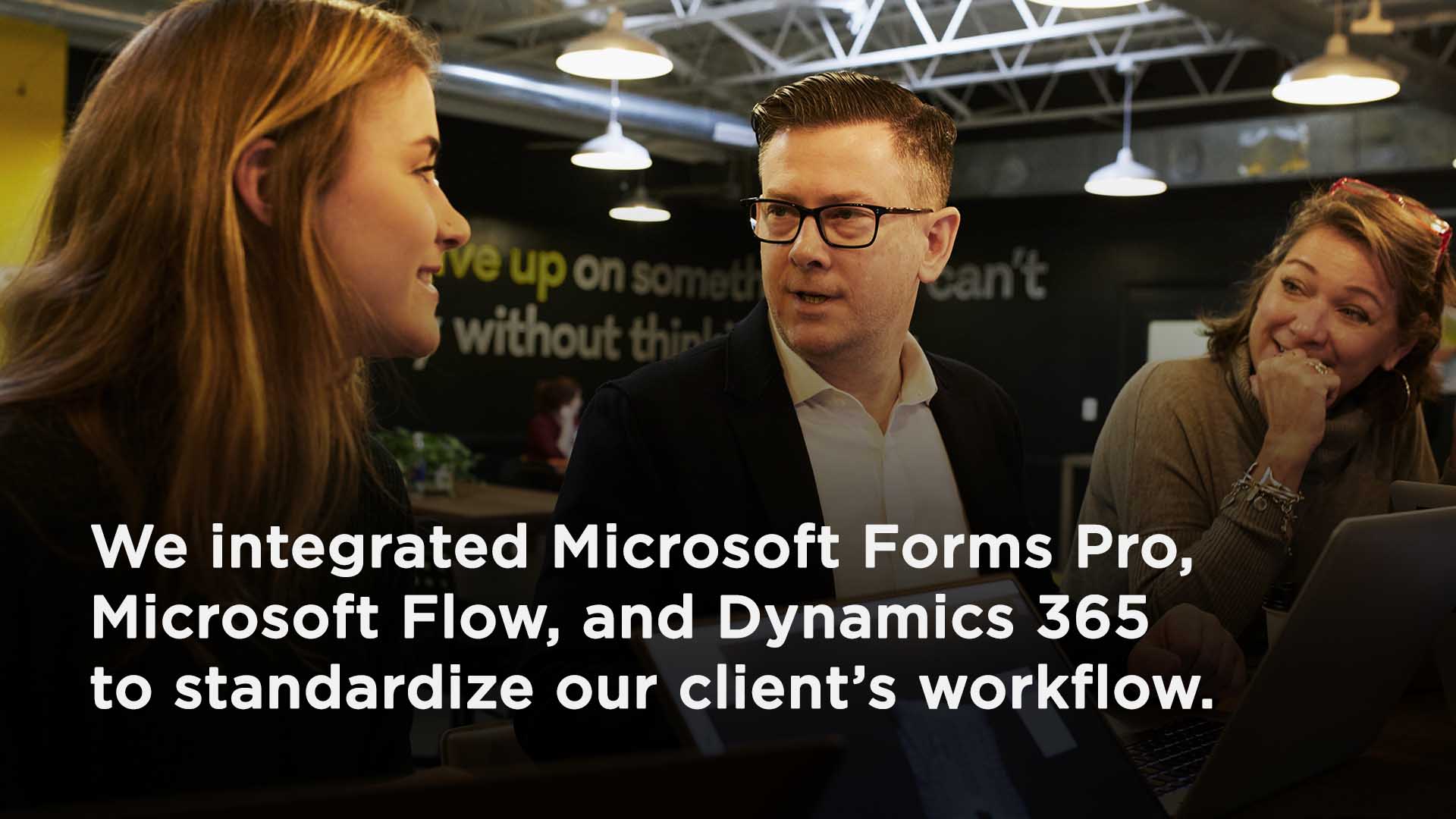 Business Scenario
Our client displays a variety of technology products to customers in their retail stores. Product demonstrations showcase product capabilities and drive sales. Following product demonstrations, the voice of customer team collects customer feedback. Customer feedback provides insights into how to improve product demonstrations. Improved product demonstrations, in turn, lead to increased sales.

Before we implemented our solution, retail customers provided feedback via phone calls. Our client used a SharePoint system to capture product demonstration feedback. But collecting feedback over the phone and using SharePoint presented a significant challenge. Our client conducted product demonstrations for two different teams without a standardized workflow. The first team, the customer success team, ran product demonstrations to determine how existing customers could use products and offerings. The second team, the enterprise business team, attended product demonstrations to better understand products and capabilities. Both teams needed to coordinate with retail store associates and customers to plan product demonstrations.
To set up product demonstrations, customer success teams and enterprise business teams independently called store associates. No centralized system existed for teams to plan product demonstrations and avoid double bookings. After product demonstrations, customer success team members or enterprise business team members called customers to receive feedback. Because the feedback system was not automated, eliciting customer feedback often required great effort. After receiving feedback, team members manually entered the feedback into SharePoint, which required significant time. Team members could then log in to see feedback for all product demonstrations. Our solution needed to streamline our client's workflow. A streamlined workflow would deliver two benefits:
How We Did It: The Technical Implementation
Recently, Microsoft released a version of Forms Pro allowing Forms to integrate with Dynamics 365 and Microsoft Flow. We were among the first to implement a solution leveraging integration support between Microsoft Forms Pro, Microsoft Flow, and Dynamics 365. We used the integration support to standardize retail store customer feedback.
We built the pipeline using the Power Platform and Forms Pro and stored customer feedback data in Dynamics 365. We created a Microsoft Flow architecture using the Power Platform. We used PowerApps to capture the details of the planned product demonstrations, generate invitations for the demo events, and capture the feedback in Dynamics 365. Using Microsoft Flow and Forms, we generated the documents to capture the feedback from the demo sessions. Responses from Microsoft Forms route to Dynamics 365, where they are stored under the respective event, customer, or sales leader. We used Microsoft Flow, which is integrated with Azure Active Directory, to create the product demonstration requests.
The completed workflow uses no code. The workflow leverages Microsoft Flow and Forms's service-based back end technology. As a result, the platform is easy to scale and maintain. Workflows are updated by editing or adding templates, avoiding complex code changes. Using the platform, sales leaders create requests for in-store product demonstrations. Store managers then either approve, modify, or reject the request. Forms Pro also enables store managers to share customer feedback. In addition, because customer feedback from Forms Pro is linked to the originating event in Dynamics 365, sales efforts and outcomes are directly attributed to customer feedback.
Business Outcomes:
•
Reduction of manual effort
•
Expedited communication
The integrated solution using Microsoft Forms Pro, Microsoft Flow, and Dynamics 365 improved our client's workflow at two junctures. First, by changing product demonstration scheduling to an electronic process, we reduced the time needed to schedule product demonstrations. Second, by automating the creation and entry of surveys, we reduced the amount of effort needed to input survey data and improved communication speed. The completed integrated workflow also connected sales outcomes to customer feedback from product demonstrations.