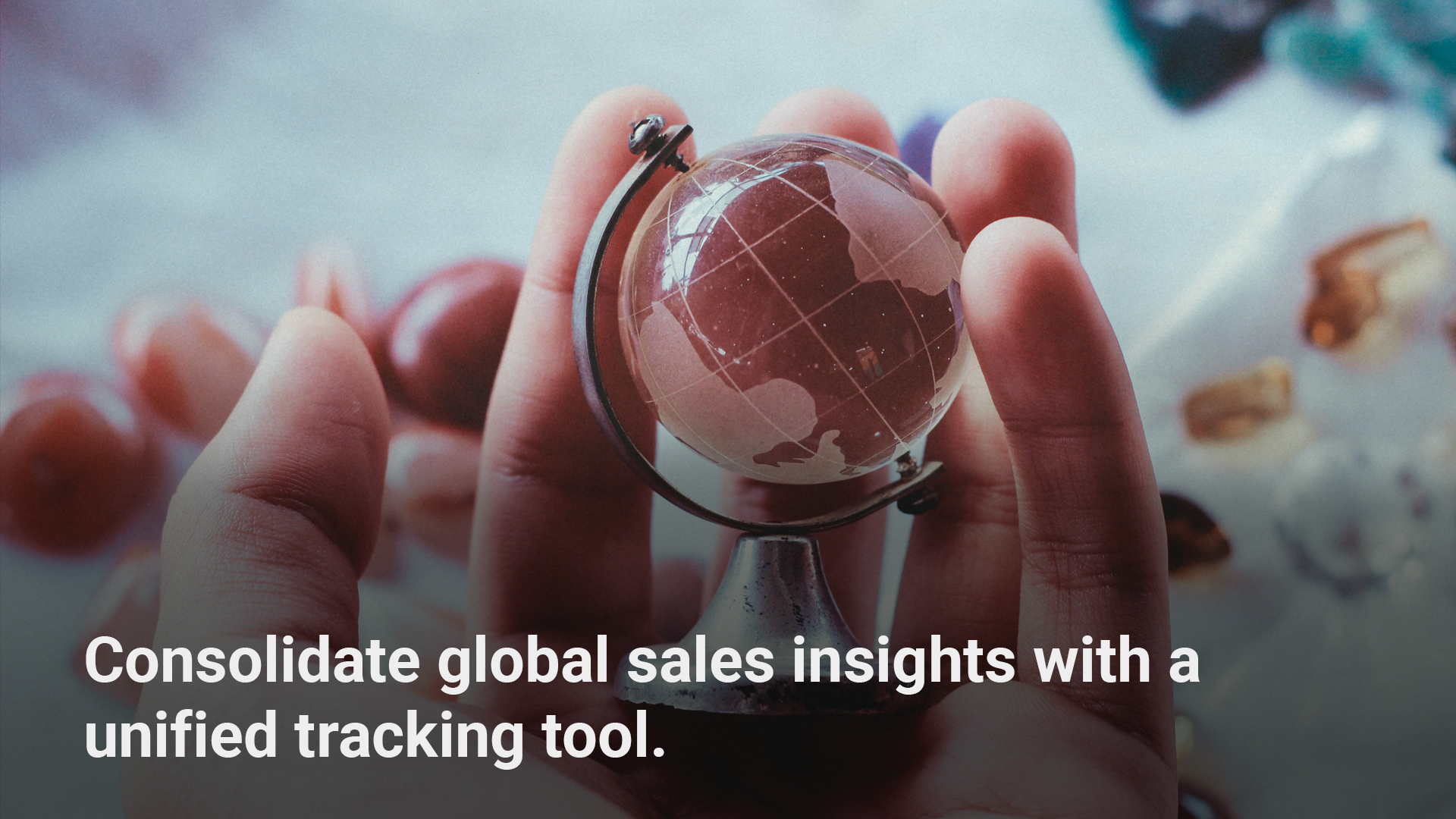 Business Case:
As consumer culture evolves, customers expect companies to respond quicker to queries. With the increasing volume of queries, offering timely solutions is challenging. Our client, the sales team at a multinational enterprise, holds weekly meetings to analyze sales performance and improve customer engagement.
The sales team, which consists of several thousand members across 14 geographical areas, struggled to collaborate effectively. The team did not have a centralized platform to share strategy and insight. A team member in one area who gained insight from a resolved query did not have a way to share the insight with team members from other regions. Key points from meetings were recorded in chat groups or email chains and were often lost or forgotten.
Team members needed to access disparate sales data in one click. Our client needed a centralized platform to consolidate insight and enable a system of accountability.
Key Challenges:
•

Eliminate manual tracking
•

Enable team members to share action/resolution details such as problem description, customer details, engineering details, and next steps
•

Develop a reporting system that provides a unified view of all actions tracked in the platform
Our Solution:
We combined Microsoft's Power Platform with Azure DevOps to create a centralized reporting platform for our client's sales team.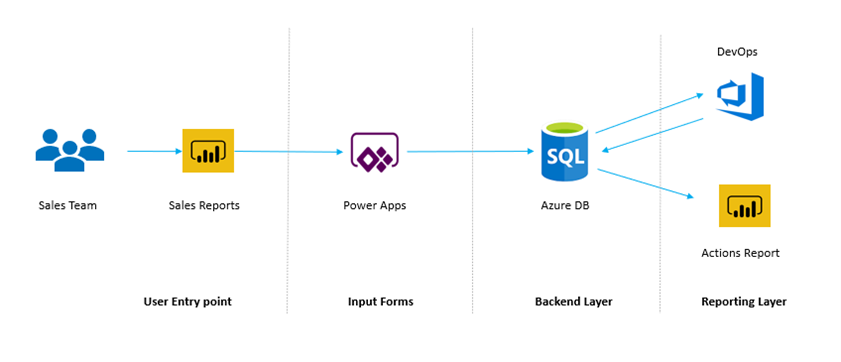 Figure 1: Solution Architecture
We developed a Power App that integrates directly with the sales team's Power BI reports. In just one click, users can log actions into the Power App. The app scans customer engagement details from the relevant Power BI report and auto-populates a request form. All users need to do is title the request and click submit.
Submitted requests are converted into Azure DevOps work items (actions) using Logic Apps. All actions are stored in a single DevOps workspace that can be accessed from anywhere in the world. We were able to further customize user experience using custom rules. Users are notified when actions are created or assigned to them; actions left unresolved for a certain period are automatically escalated to sales managers.
All action data from DevOps is stored on an Azure SQL database in real time. Sales managers can access global action data through a Power BI report we built on top of this database.
Business Outcomes:
Our real-time, centralized tracking solution automated the handling of customer queries. Sales managers can easily respond to high-profile cases or queries that require immediate attention. In the first year of implementation, team members logged over 6,500 actions that might have otherwise been lost. Over half of these actions have already been addressed.
Our solution services 2,000-3,000 users a month. Users can submit queries in real time, enabling team members to view newly created actions within seconds. Members of the sales team across the world can consolidate insights gained in previous interactions and apply them to new scenarios.
In response to the global pandemic, we added a flag within the tool that highlights blockers caused by COVID-19. Team members use flags to identify when they need assistance for customer issues related to the pandemic. COVID-flagged actions are automatically escalated.
The Power BI report containing all action details enables sales managers to analyze global user query data. Managers can help the sales team build an informed support strategy and effectively prioritize customer queries. In the report, managers can break down actions by activity level, geographic area, or product area, and identify key recurring issues. Management can better understand how queries are being addressed and what areas need support, improving the speed at which they can resolve actions. The dashboard's success led our client to establish a specialized weekly meeting that focuses exclusively on analyzing report insights.
Highlights:
•
Developed a centralized platform using Power Apps that enabled sales team members to easily log, track, and analyze customer queries (2,000-3,000 users a month)
•
Developed a Power BI report that enabled sales managers to analyze weekly action data
•
Tracked 6500+ actions, over half of which have already been addressed
•
Provided team members real-time access to action data across 14 regions