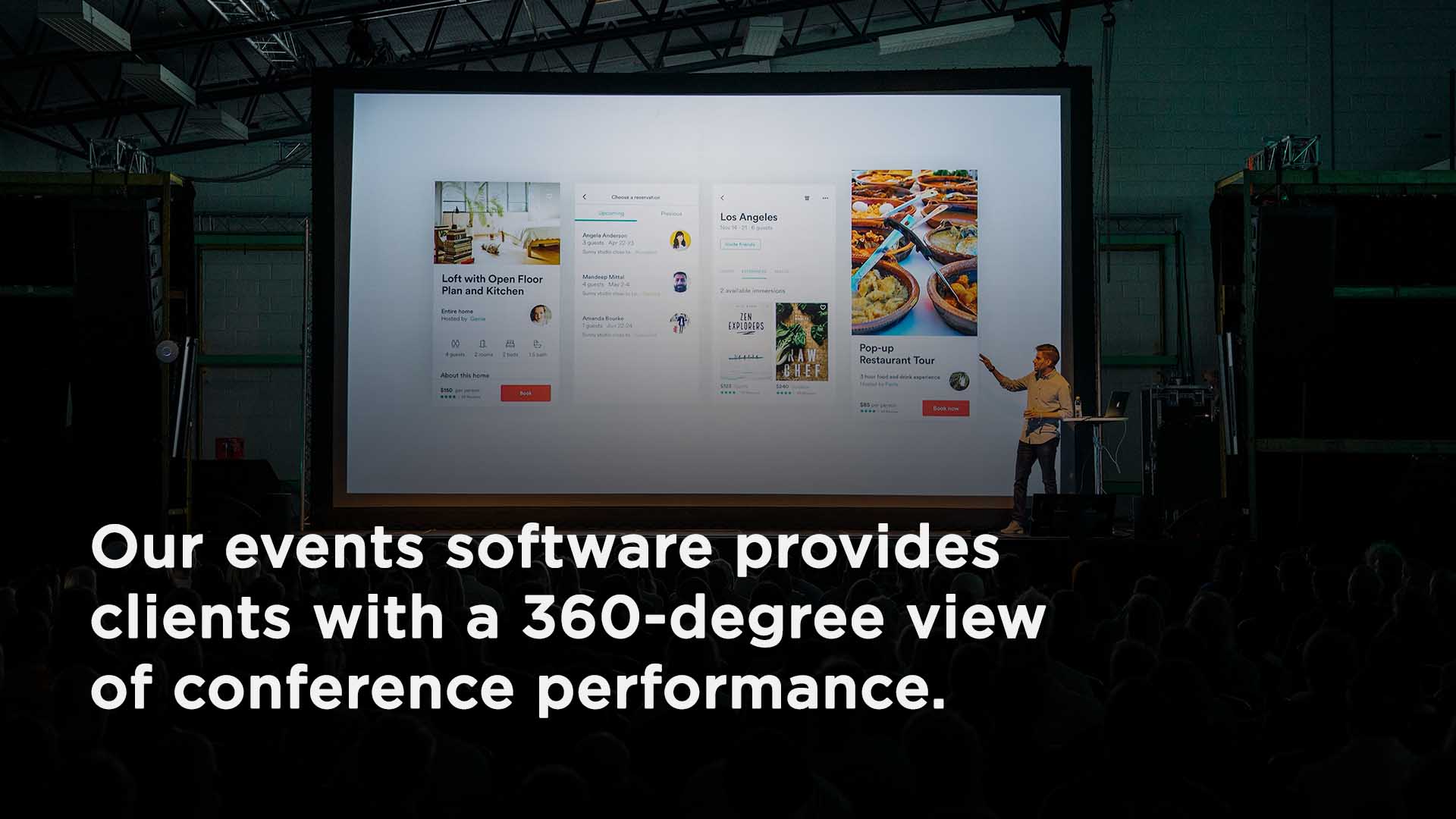 Key Challenges
•
Create a platform for conference hosts to develop and track conference events from start to finish.
•
Enable multiple business divisions to collaborate on budgets and marketing campaigns.
•
Monitor session attendance, attendee feedback, sentiment, and attendee demographics.
Hosting Conferences Is Not Easy
Our client, an internationally recognized software company, asked us to create an end-to-end event platform to manage a conference of 30,000 attendees. The client wanted to track all the marketing activities related to the conference. The platform needed to allow marketers to:
•
Analyze marketing channel performance
•
Measure attendee demographics
•
Analyze attendee sentiment from before, during, and after the conference
•
Evaluate the return on investment
In short, the platform needed to enable our client to run the event from start to finish.
Complete Event Management on a Single Platform
Running a conference with 30,000 attendees requires significant preparation. Our client's audience spanned numerous industries. Individual sessions and workshops were planned for a variety of job titles ranging from IT technician to CEO. Using our events platform, the event management teams ran customized marketing campaigns to target different attendee segments. Because our platform unified budget information, the conference was a huge success.
The conference marketing team spent six months generating demand for the event. The events platform allowed marketers to forecast how many weekly registrants were needed to meet the conference's attendance goals. The marketing teams conducted weekly campaigns. When conference attendees registered for the event, their registration information was sent to the marketing teams. Real-time data access allowed the teams to perform detailed analyses of marketing channel performance. Campaigns improved each week, as the teams knew exactly which channels and demographics to target.

To better understand attendee experience, our client used registration information, pre and post-conference surveys, and session surveys. A week before the conference began, attendees were asked to fill out a pre-conference survey. Attendees were asked questions like, "What are your professional objectives, and can this conference help you reach them?" and "Is [our client's] brand a brand you love?" The attendees then answered to what extent they agreed or disagreed. To analyze the survey results, our client used the events platform.
At the conference, each attendee was issued a conference badge. The badge was scanned before attendees entered a session or workshop. The session attendance information provided our client with even more insights into the attendee experience. Our client used session attendance information to evaluate session demand in real time. Because the client knew which sessions were filled, additional makeup sessions were scheduled later.
Successful Results
A week after the conference, attendees were sent a final survey. The survey featured the same questions from the earlier pre-conference survey, allowing our client to measure sentiment shift. Our client used this information to evaluate the following:
•
How attendees felt about the brand before the event
•
How attendees' perception of the brand shifted during the event
•
How attendees felt about the brand after the event
Trends were tracked across countless metrics. Using the data gathered from the event, our client determined whether certain industries liked the conference more than others. Our client also determined whether attendee satisfaction varied by job title.
Our client observed positive ROI in all their metrics. These metrics included satisfaction, sales lead generation, viewership, support cost reduction, and demand generation channels. Using our events platform, our client compiled the data from their conference in one week—a process that normally required six months. Using one platform to host an event resulted in significant benefits at every stage in the process.