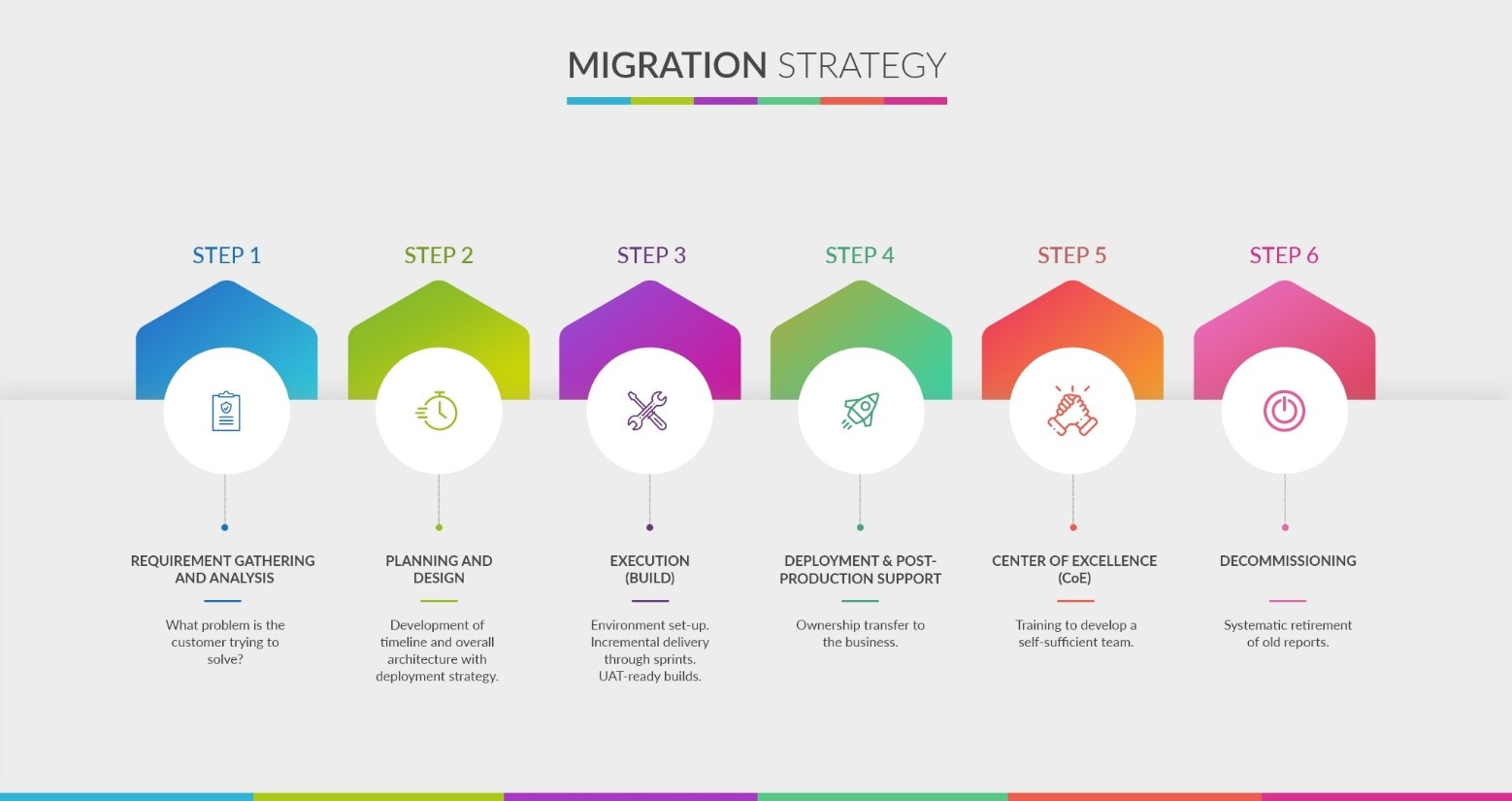 Power BI Migration Strategy:
Business Intelligence (BI) helps corporate executives, business managers, and other operations teams make better and more informed business decisions. Organizations use BI to cut costs, identify new business opportunities, and spot inefficient business processes.
BI tools used to be very difficult to use. Trained professionals needed technical knowledge and deep expertise to create reports and dashboards. Minor tweaks and enhancements required an extensive development cycle.
BI reporting tools like Microsoft Power BI have evolved past that. Now, business users with minimal training can develop and customize their own dashboards and reports, without requiring assistance from developers. Power BI and similar tools leverage the storage, computing power, and availability afforded by cloud platforms. Organizations can now deploy quickly and adjust usage easily, without spending huge amounts of time and money upfront.
In this article, we will detail our experience migrating customers to Power BI. Our processes help customers enable data-driven culture in a way that is cost effective, secure, and scalable. We will examine the six migration stages in detail:
1.
Requirements Gathering and Analysis
4.
Deployment and Post-Production
1. Requirements Gathering and Analysis
The initial stage will always focus on understanding the needs of our customers. During the Requirement Gathering and Analysis phase, we evaluate the existing reporting platform. We examine reports, usage, UI/UX, audience, data, and security implementation.
Through this, we understand scale and complexity. This helps us define scope and acceptance criteria, and allows us to create an inventory of reports and data estate.
Example: In our most recent data migration projects, we addressed the following four challenges:
2.
Difficulty managing and maintaining multiple data sources
3.
Decentralized reporting platform
4.
High cost of maintaining different tech stacks
2. Planning and Design
Every customer has different needs and priorities. During the Planning and Design phase, we propose our solution, outlining the timeline and overall architecture. During this stage we also involve architects, data admins, infrastructure admins, legal and security teams, and the Power BI product team if required.
We divide this phase into five steps.
1.
Perform detailed gap analysis to identify the different features, and visualization and modelling challenges
2.
Propose architecture that covers security implementation, refresh latency, and performance level requirements
3.
Design report templates and prepare mock-ups
4.
Define scope for automated validation
5.
Arrive at a deployment strategy
3. Execution
During the Execution phase, we implement the approved solution architecture. To ensure proper workflow, we break down our procedure into accessible segments. We start with the environment setup to develop Power BI reports. We follow the agile methodology to determine sprint execution, with the following steps:
1.
Sprint plan – We create a product backlog and define the scope and size of the sprint
2.
Implement – Using
best practices
, standard templates, and themes, we start the report migration and provide incremental builds of the reports
3.
Performance Tuning – We rethink the architecture and report layout,
optimizing the data model
to fine-tune the reports for best performance
4.
Test – We use a set of
in-house tools
to perform automated testing that tracks query performance and insights on visual layout and data validation
5.
Deploy – We mark the closure of our sprint by automating the report deployment and readying the build for UAT
4. Deployment and Post-Production
It is important to consider the end user when building a plan. During the Deployment and Post-Production phase, we:
1.
Conduct user acceptance testing (UAT) through numerous user acceptance sessions
2.
Get the sign off for UAT and production
3.
Automate the deployment of all reports to production for end users to consume
UAT allows technical users, business users, and operations team members to become familiar with the new data system as the old system is gradually moved offline.
To complete the transfer of ownership, we hand off the code, report, and workspace inventory to our customers.
5. Center of Excellence
We want our clients to develop into a self-sufficient team. During the Center of Excellence phase, we train customers by sharing best practices, and offering virtual training for administrative steps, governance, security, and understanding Power BI functionality. Our Center of Excellence (CoE) offers the following sessions:
6. Decommissioning
When migrating platforms, it is important to be mindful of redundancies. In the Decommissioning phase, we systematically retire the old reports without impacting business. We follow a very planned approach during the transition to minimize impact to business.
Benefits of Migrating to Power BI
With this six-phase strategy, our customers are able to successfully migrate to a Power BI platform. This results in improved decision-making and positive business outcomes, including:
1.
Quicker insights for decision-making
•

Improved and timely decision-making thanks to reduced latency between data sources and reports
•

Power users and end users can take advantage of the organization's data assets to make data-driven decisions, and streamline operations
•

Users can derive key insights by combining data from disparate sources such as Dynamics365, Microsoft365, and hundreds of other relational databases
•

Ease of management and governance of the organization's reports through centralized admin capabilities
•

Single source of truth for all reporting layers through shared datasets
•

Role-based access through RLS