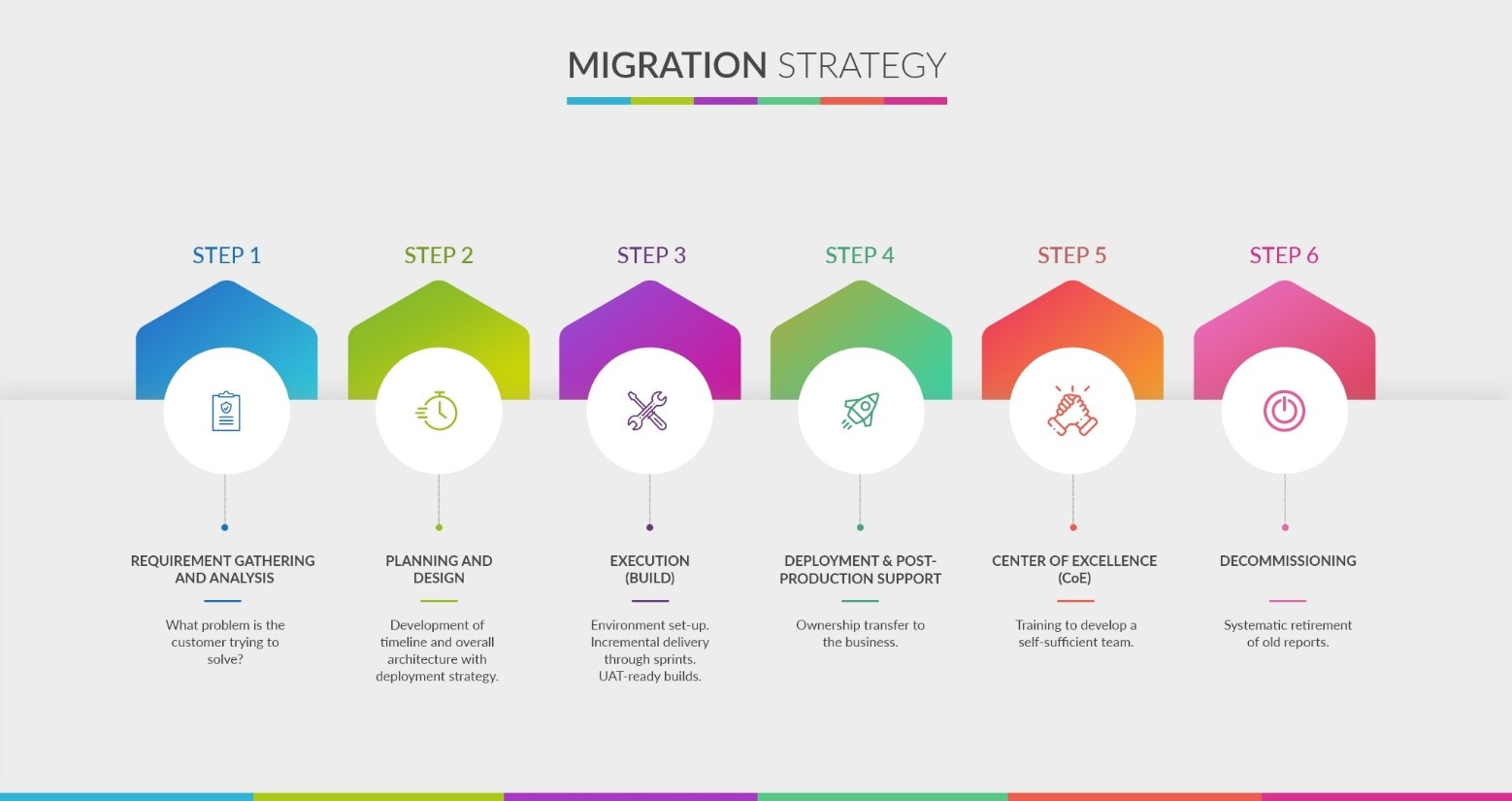 Table of Contents
What is Power BI?
Business Intelligence (BI) is the collection and analysis of business operations data. Analysis of data enables business leaders to cut costs, identify business inefficiency, and increase revenue.
BI reporting tools exist to aggregate and visualize data from different business sources. Originally, BI tools required developer expertise to create reports and dashboards. Minor changes or enhancements required an extensive development cycle.
Premier reporting tools like Microsoft Power BI have now evolved. With Microsoft's Power BI platform, business users with minimal training can develop and customize their own dashboards and reports, without software development expertise. Power BI uses the storage, computing power, and availability offered by cloud platforms. Organizations can now deploy quickly and adjust computing capacity easily, without extra costs. Many of our Fortune 500 customers migrate to Power BI to increase their reporting capabilities.
In the past five years, we have migrated over 5,000 reports to Power BI platform from previous systems. Here is everything we've learned about Power BI migration.
Power BI Migration Strategy
1. Requirements Gathering and Analysis
The initial stage focuses on understanding our customer's needs. We evaluate our customer's existing reporting platform. We examine reports, usage, UI/UX, audience, data, and security and create an inventory of reports and data estate. Through evaluation, we determine migration scope, performance requirements, and complexity.
In our most recent data migration projects, we addressed the following four challenges customers faced with their previous platforms:
2.
Difficulty managing and maintaining multiple data sources
3.
Decentralized reporting platform
4.
High cost of maintaining different tech stacks
2. Planning and Design
In the second stage, we propose our solution based on unique customer requirements and compute infrastructure. The proposal meeting involves architects, data administrators (admins), infrastructure admins, legal and security teams, and the Power BI product team if required. We divide planning and design into five steps:
1.
Perform detailed gap analysis to identify the different features, visualization, and modelling challenges.
2.
Propose architecture including security implementation, refresh latency, and performance level requirements.
3.
Design report templates and prepare mock-ups.
4.
Define scope for automated validation.
5.
Arrive at a deployment strategy and implementation timeframe.
3. Execution
In stage three, we implement the approved solution architecture. To ensure efficient workflow, we divide our software implementation into steps. We start with the environment setup to develop Power BI reports. We follow the agile methodology to determine sprint execution, with the following five steps:
1.
Sprint plan: we create a product backlog and define the scope and size of the sprint.
2.
Implement: using
best practices
, standard templates, and themes, we start the report migration and provide incremental report builds.
4.
Test: we automate testing with
performance analysis tools
that track query performance and insight on visual layout and data validation.
5.
Deploy: we mark the closure of our sprint by automating the report deployment and readying the build for UAT.
4. Deployment and Post-Production
Stage four is divided into four steps:
1.
Conduct user acceptance testing (UAT) through numerous user acceptance sessions. UAT allows technical users, business users, and operations team members to become familiar with the new data system as the old system is gradually moved offline.
2.
Receive sign off for UAT and production.
3.
Automate the deployment of all reports to production for end users to consume.
4.
To complete the transfer of ownership, we hand off the code, report, and workspace inventory to our customers.
5. Center of Excellence (CoE)
The goal is to enable our clients to become self-sufficient Power BI users. During the Center of Excellence stage, we share best practices and offer virtual training for administrative steps, governance, security, and Power BI functionality. Our CoE offers the following sessions:
6. Decommissioning
To avoid redundancies, we systematically retire the old reports without impacting business operations.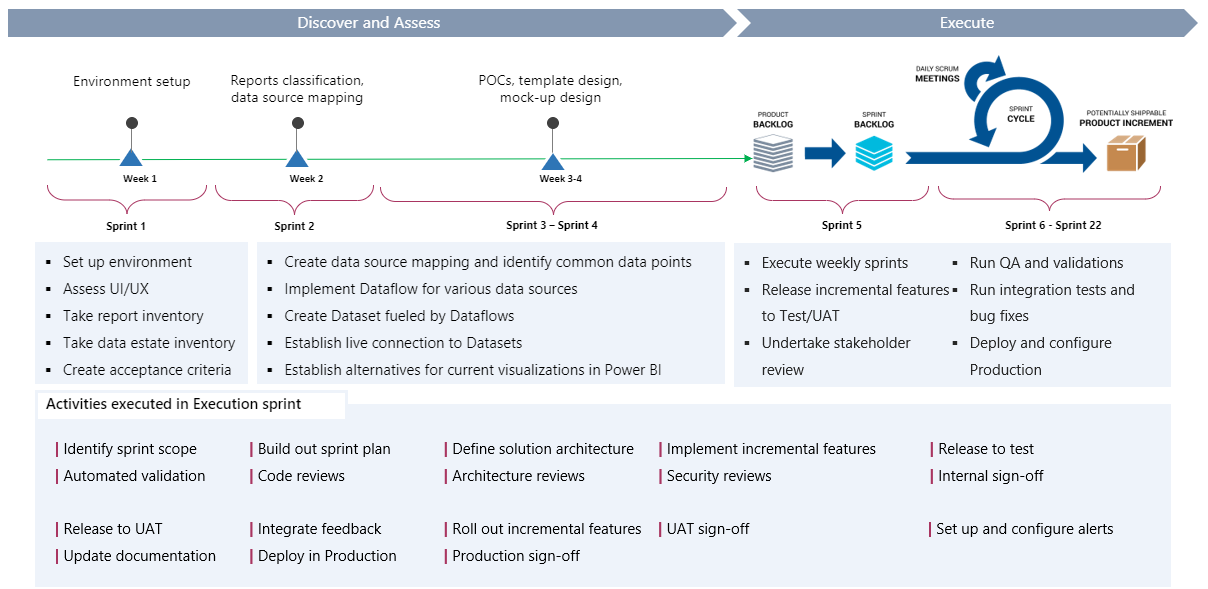 Figure 1: Execution Timeline
Benefits of Migrating to Power BI
With our six-phase strategy, our customers are seamlessly migrated to Power BI and receive the following benefits:
Quicker insights for decision-making
•

Reduced latency between data sources and reports
Self-Service BI
•

Business users can create reports and customize dashboards without developer expertise
Centralized Reporting
•

Ease of management and governance of the organization's reports through centralized administration capabilities
•

Users can combine data from different sources, such as Dynamics 365, Office 365, and hundreds of other relational databases
•

Single source of truth for all reporting layers through shared datasets
Security Benefits
•

Role-based access through role-level security
A Sample of Our Power BI Migrations
At MAQ Software, we have migrated clients from a wide variety of data modeling platforms to Power BI. Our experience enables us to work with large volumes of data and enable business continuity throughout the migration process.
QlikView to Power BI
Client: EF Education First, a global education foundation with offices in 50 countries.
Situation: The client needed a modern reporting platform with self-service analytics, easy scalability, and low operational costs.
How We Did It: We performed a gap analysis of the features and visualizations in QlikView and Power BI. QlikView supported 16 reports, the data source consisting of 20+ SQL databases and 30 Excel sources. We ensured all required data could be transferred and visualized per the client's needs.
Results: Comparatively, Power BI offered low-code architecture with cloud-based centralization and self-service scalability.
SAP Business Objects (SAP BO) to Power BI
Client: A multinational food, snack, and beverage corporation with 250,000+ team members.
Situation: With our client's high volume of data, report load time exceeded five minutes. Running many slow-loading reports takes up the team's valuable time, negatively impacting business operations.
How We Did It: We implemented a tabular model with Azure Analysis Services (AAS) to enable fast, efficient reporting in Power BI. Data loads from our client's existing Teradata storage into AAS. For users with alternate view and calculation needs, reports can be exported directly from AAS to Excel. AAS is more equipped to store the huge models and pre-aggregated data needed for real-time visualization. AAS provides a dedicated central processing unit (CPU) and memory, independent of the load on premium capacity.
Results: Migrating from SAP Business Objects (SAP BO) to Power BI enabled our client to create and run reports 90% faster. With SAP BO, reports could be delayed up to 5 minutes. With back-end Azure Analysis Services' (AAS) tabular capabilities, dense data is easily loaded into Power BI in less than 20 seconds. Now, users can rapidly customize and run reports without the wait. AAS also has a built-in feature that provides time intelligence for key performance indicators (KPIs) on the fly.