In the fast-paced retail industry, being able to quickly adapt to evolving supply chain scenarios is essential to success. This requires accurate and up-to-date tracking of inventory, order, and delivery data from varied sources. A leading consumer packaged goods (CPG) retailer recognized this and embarked on their digital transformation journey with a goal: enabling real-time operational insights.
The challenges
Direct store delivery (DSD) is a distribution method that allows manufacturers to deliver directly to stores, bypassing wholesalers entirely. While it offers better control over inventory and pricing, it also introduces challenges such as managing routes, drivers, vehicles, and orders in real time. To address these DSD challenges, the retailer needed a solution that could:
1.
Ingest and process high volumes of data in real time.
2.
Enable real-time analytics and reporting.
3.
Provide a unified view of all DSD operations.
4.
Support data-driven, prescriptive analytics.
5.
Optimize platform costs.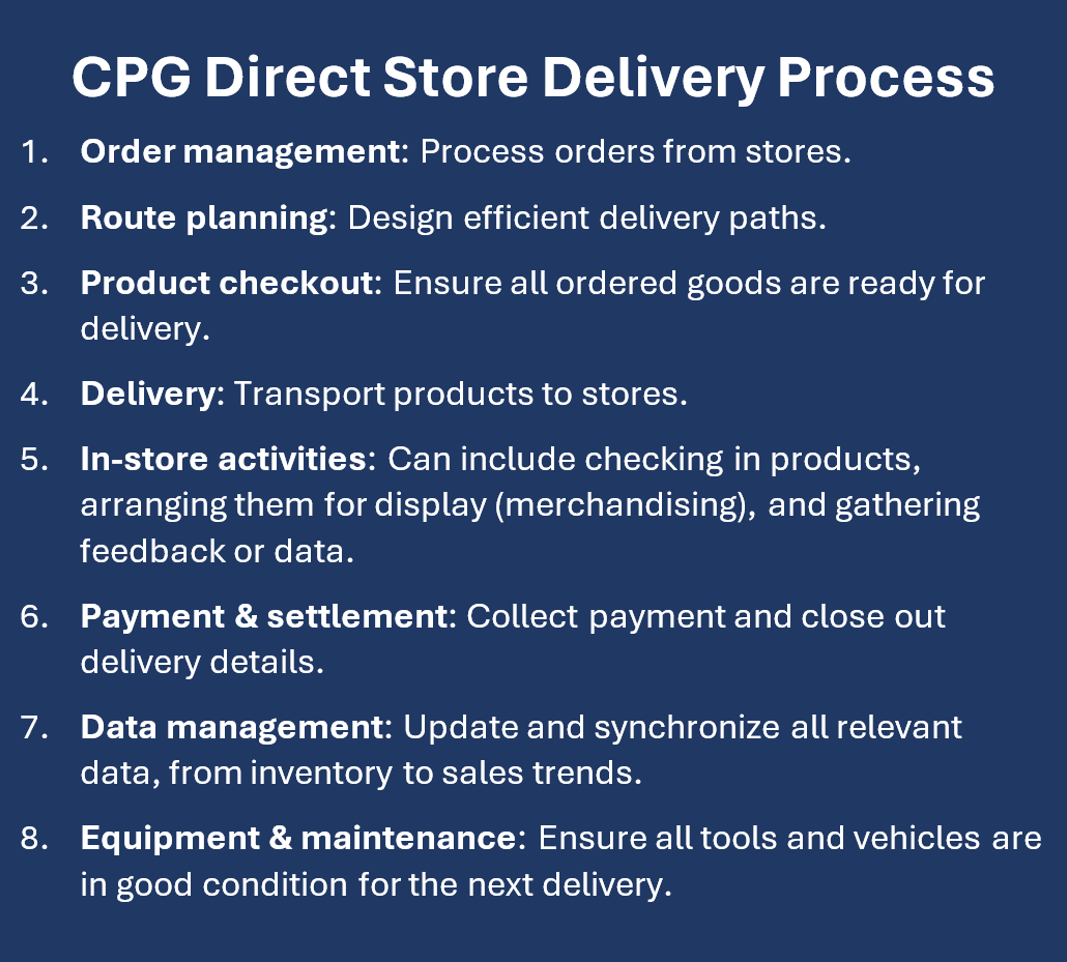 Figure 1: Overview of the DSD process for CPGs
Enabling real-time insights with Fabric
While the retailer's existing infrastructure and setup laid the foundation, integrating Microsoft Fabric into the solution was the pivotal element in advancing their supply chain analytics. As an all-in-one analytics solution and easy-to-use SaaS product, designed to streamline your analytics processes and eliminating the need to combine services from various vendors.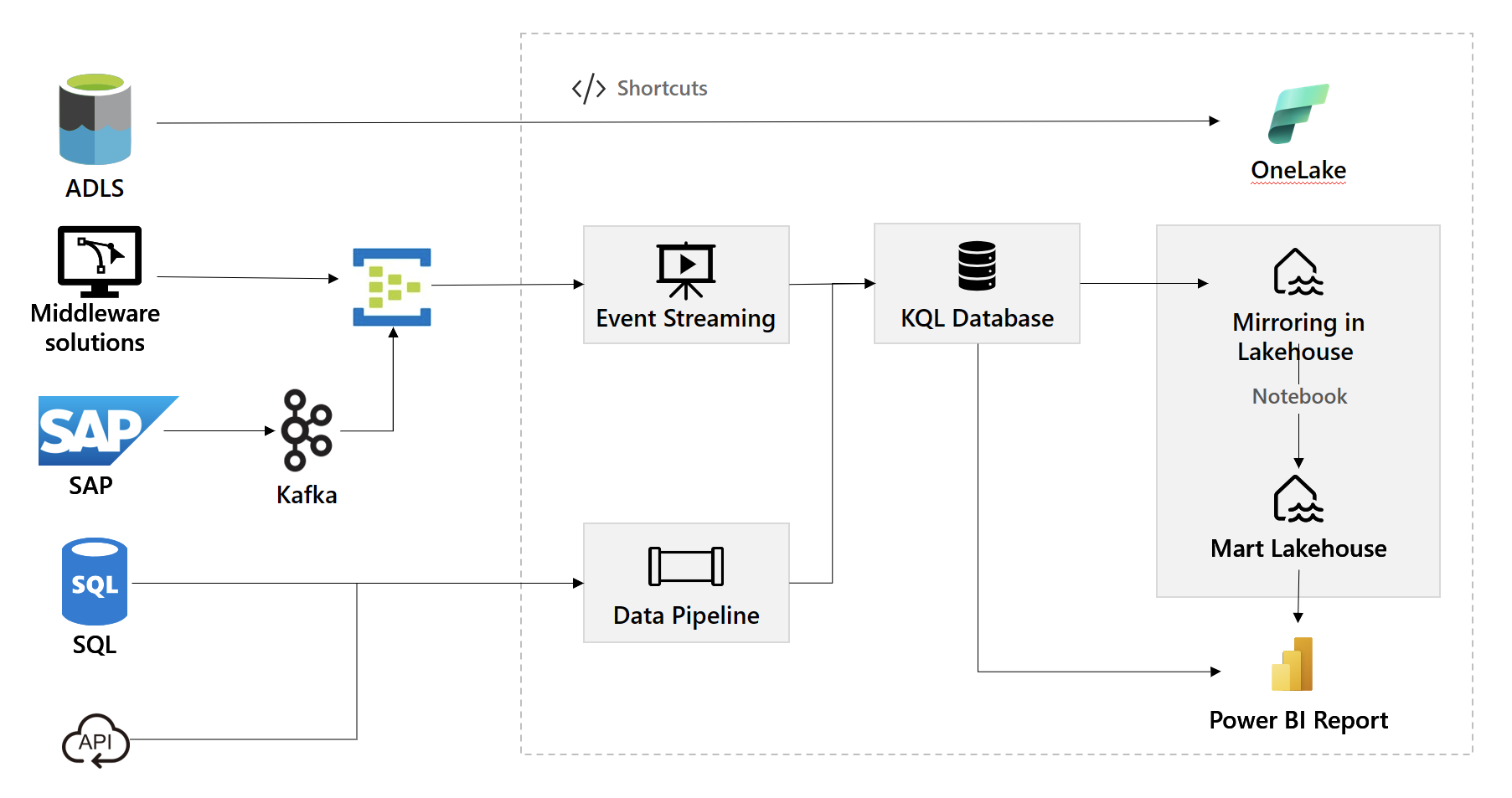 Figure 2: Solution architecture diagram
Diving deeper into the solution
With Fabric, a solution was developed and implemented into their infrastructure to revolutionize their data analytics through a streamlined process:
Data ingestion & processing:

1. Uses event streaming and data pipelines for ingesting real-time and micro-batch data into the KQL database. This ensures instantaneous data access for quick decision-making.
2. Employs direct connections to Azure Event Hubs and Kafka for optimized real-time data ingestion with minimal delay.
3. Implements micro-batch processing for scheduled retrieval of incremental data when real-time streaming is not feasible.
Data storage & reliability:
1. Mirrors data to OneLake, ensuring secure and reliable data storage.
2. Integrates with Azure Datalake Gen2 Storage, enriching the data mart with new and existing datasets.
3. Facilitates advanced analytics through data transformations.
4. Supports large-scale batch processing within the unified data repository.

Advanced analytics & visualization:
1. Offers real-time data visualization through Power BI reports with features like auto page refresh and admin controls.
2. Uses Fabric's analytical platform for robust data analysis.
3. Introduces Direct Lake mode in Power BI for faster data handling and improved query speed.
4. Demonstrates increased efficiency over traditional import and direct query reporting methods.
Operational efficiency & insights:
1. Combines Fabric's eventstreams with Lakehouse analytics for a solid base in metric monitoring and advanced data analysis.
2. Improves the ability to explore market patterns and consumer behavior.
3. Empower retailers to optimize operations and marketing strategies through data-driven insights.
Figure 3: The Power BI dashboard, using real-time data

Fabric benefits and beyond
Fabric presents a transformative approach to achieving real-time insights and comprehensive analytics, all within one product. The retailer's new Fabric-based solution delivered several key benefits, including: 
1. Real-time insights: The ability to access and analyze high-volume data in real time enabled the retailer to make faster and more informed decisions about their DSD operations. Analyzing supply chain data now enables the retailer to identify bottlenecks and optimize operations. This analysis allows them to identify and resolve potential issues before they impact customers.
2. Improved efficiency: The retailer was able to improve the efficiency of their DSD operations by using Fabric to optimize routes and reduce delivery times.
3. Comprehensive analytics: Fabric's unified data lake and advanced analytics capabilities provided the retailer with a deeper understanding of their DSD customers and products. Now, analyzing customer purchase patterns allows the retailer to identify trends and develop targeted marketing campaigns.
4. Reduced costs: Costs could be reduced by using Fabric to identify and eliminate waste in their DSD operations.
Beyond the initial goal, Fabric also enabled the retailer to achieve even more:
1. Effortless data integration: Fabric's shortcuts facilitate seamless onboarding of data points from Azure Datalake Gen 2 storage. This integration simplifies the inclusion of existing data lakes, thereby eliminating redundant data duplication.
2. Adaptive load handling: Fabric's bursting and smoothing capabilities ensure the system remains resilient during intense activity bursts. By only paying for the average load, instead of the peak, cost is optimized.
3. Simplified management: Instead of juggling multiple resources like Azure Data Factory, KQL database, and Power BI capacity, users can solely focus on managing Fabric. This streamlined approach cuts down operational complexities and overheads.
4. A launchpad for AI: Looking into the future, Fabric's robust data science tools combined with data in OneLake positions retailers to enable prescriptive analytic models. These models aim to revolutionize product recommendations, substantially aiding field agents during store visits.
In summary
Microsoft Fabric excelled beyond addressing the retailer's core challenges by delivering transformative benefits to their Direct Store Delivery operations. By facilitating real-time data ingestion and processing, Fabric provided a unified, instantaneous view of all DSD activities, allowing for quick and strategic decision-making.
The implementation also enabled real-time analytics and reporting capabilities, with Power BI integration ensuring that insights were both accessible and actionable. Fabric's scalable infrastructure laid the groundwork for predictive analytic applications, equipping the retailer with the tools to anticipate market trends and optimize their supply chain. On top of all this, costs were also optimized.
The result was a great shift in how the retailer operated, manifesting in increased efficiency, reduced costs, and a strengthened connection with customers.
Want to learn more?
When it comes to implementing Microsoft Fabric, you need a partner that you can trust to deliver the results you need. As a Fabric Featured Partner, our certified team has the deep expertise and experience you need to design, deploy, and manage a successful Microsoft Fabric environment. We offer a comprehensive suite of services, from planning and design to deployment and support, to help you get the most out of your investment in Microsoft Fabric.