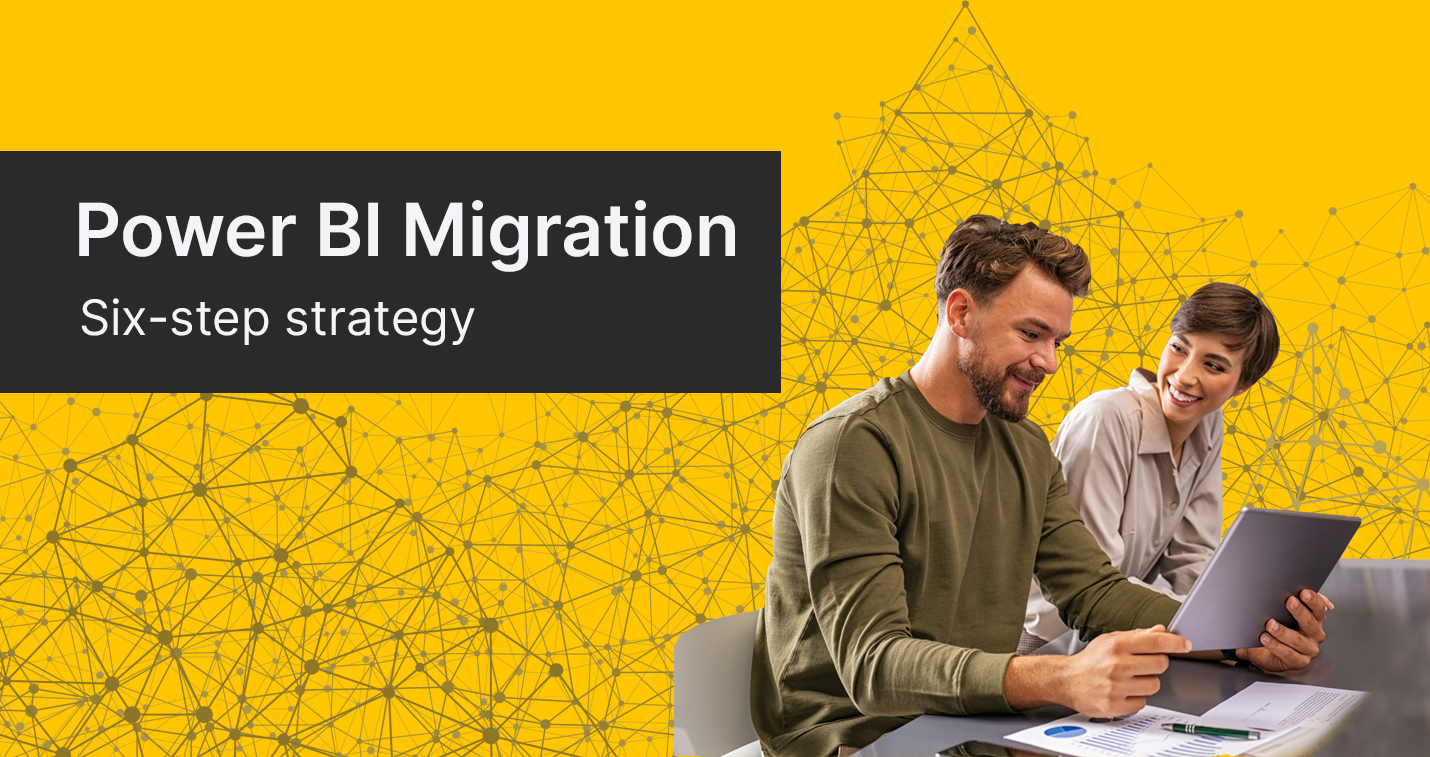 Table of Contents
Power BI Migration Strategy
Enterprises today are looking for more efficient BI platforms to drive decision-making. Many are opting for Power BI due to its:
1.
Quick page and report loading.
2. Easy management of multiple data sources.
3.
Centralized reporting.
4.
Cost-effective maintenance.
Migrating to Power BI, especially with large data volumes, can be complicated. After leading over 100 Power BI migrations for large-enterprise companies, and implementing over 8,000 Power BI solutions, we've developed a simple six-step migration strategy. With this strategy, we ensure a streamlined migration to Power BI for your enterprise.
1. Requirement Gathering and Analysis
The first step is gaining a clear understanding of your current BI landscape. Our team evaluates key areas, such as existing reporting platforms, to identify the key functionalities required and the gaps we need to fill. Examining your reports, dashboard usage, UI/UX, audiences, data sources, and security enables us to create a report inventory and data estate.
All this information helps determine the optimal migration scope for your organization, ensuring the performance will align with your business needs.
2. Planning and Design
Next, we propose a solution based on all the requirements gathered in step one. Meetings with relevant stakeholders (architects, data admins, etc.) ensure that the migration plan is aligned with your organizational objectives.
The planning and design process is divided into five sub-steps. We work to:
1.
Identify areas for improvement and areas to address in the migration via a thorough gap analysis.
2.
Propose a Power BI architecture, with a focus on data security, refresh latency, and report performance.
3.
Design report templates and prepare mock-ups.
4.
Define the scope for automated validation.
5.
Set a transparent deployment strategy and implementation timeline for clear expectations.
3. Execution
With a well-defined roadmap, this execution phase is streamlined for your team. Our agile framework optimizes our workflow and minimizes disruptions through these steps:
1.
Sprint planning: Define product backlogs, scope, and sprint durations.
2.
Report migration: Implement using
best practices
, reusable templates, and themes for incremental report builds.
3.
Optimization: Refine both architecture and report layouts to improve performance.
4.
Testing: Use in-house
performance analysis tools
to monitor query performance, suggesting optimizations in layout and data validation.
5.
Deployment: Conclude sprints with automated report deployments, preparing for user acceptance testing (UAT).
4. Deployment and Post-Production
The experience of your end users is at the core of our approach. Through rigorous UAT sessions, we make sure the reports are user-friendly, high-performing, and aligned with user needs. Upon approval, deployment is automated. This automation gives end users immediate access to the reports and grants your teams the insights they need without delay.
The final step in the process is the transfer of ownership—handing over code, reports, and workspace details to you.
For many companies, Power BI migration ends here. Yet, for you to truly harness its potential, successful adoption is critical. Thus, our commitment extends to ensuring post-migration success through the next two crucial steps.
5. Center of Excellence (CoE)
Through our CoE training sessions, clients and their team members are empowered to become independent Power BI users.
The CoE sessions conducted familiarize team members with Power BI capabilities, governance, and best practices. The goal is to transition users smoothly as legacy systems phase out. Our custom training includes regular office hours with certified engineers, an advanced curriculum, and pre-built solutions and frameworks. These CoE sessions can shorten the Power BI adoption timeframe from years to months.
Looking to further boost Power BI adoption? Check out our virtual CoE trainings, available year-round:
6. Decommissioning
A streamlined data environment is pivotal for efficient operations. We methodically phase out redundant reports, ensuring your team works with the most relevant and updated data. With our support, your seamless migration to Power BI becomes the first step to unlocking a wealth of actionable insights for strategic decision-making.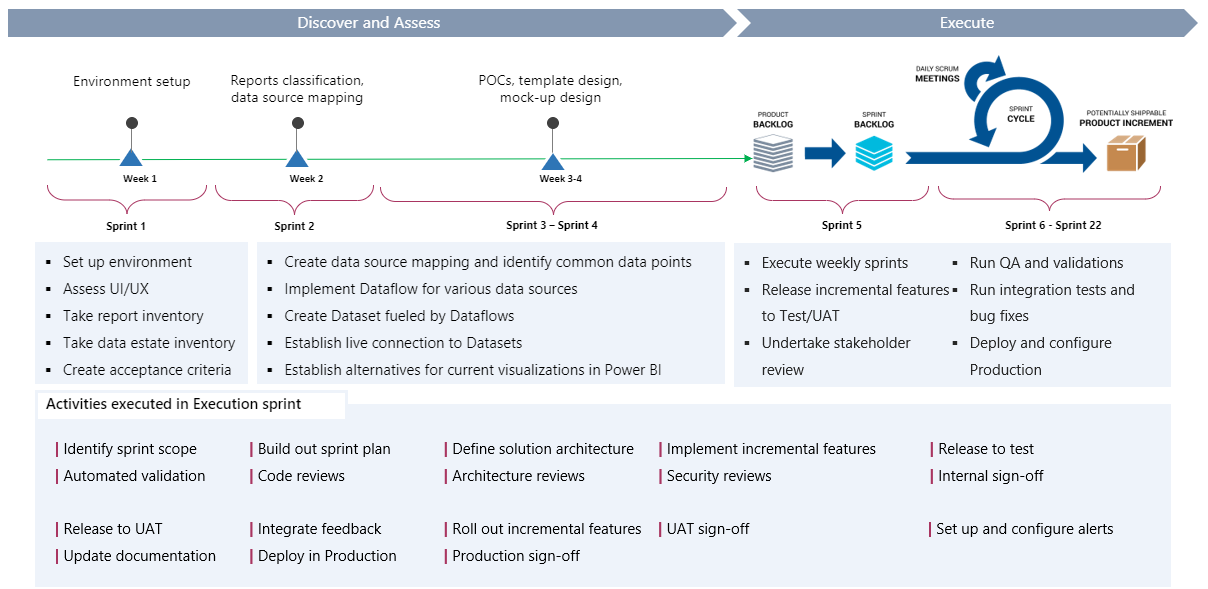 Figure 1: Complete Process Overview
Benefits of Migrating to Power BI
By migrating to Power BI, our clients have benefitted from:
Quicker Insights for Decisionmakers
•
Reduce latency between data sources and reports.
•
Improve scalability to support your growing organization.
•
Gain real-time insights for immediate decision-making.
•
Harness advanced visualization tools for clearer, interactive data representation.
Self-Service BI
•
Empower business users to create reports and customize dashboards without needing developer expertise.
•
Use natural language queries for straightforward data questions and answers.
Centralized reporting
•
Streamline report management with centralized administrative tools.
•
Integrate seamlessly with Microsoft ecosystems, such as Dynamics 365, Office 365, and more.
•
Consolidate data accuracy with a single source of truth across reporting layers.
•
Dive deeper into data with drill-down and drill-through functionalities.
•
Protect data with robust security features like row-level security and Azure Active Directory integration.
Cost-effectiveness
•
Benefit from competitive pricing structures suitable for various business sizes.
Customization and expansion
•
Personalize reports with visuals from an expansive marketplace and our certified custom visuals.
•
Combine data from varied sources, ensuring cohesive insights.
•
Shorten the learning curve with an intuitive, user-friendly interface.
Power BI Migration Case Studies
As the 2021 Microsoft Power BI Partner of the Year, we bring unparalleled expertise to the process of migrating from various data visualization platforms to Power BI. Our certified professionals specialize in managing large data volumes. We ensure not just a seamless migration, but also uninterrupted business operations throughout the process. Read on to learn how migrating to Power BI can be a game-changer.
Tableau to Power BI
Client: An international fast-moving consumer goods (FMCG) company.
Situation:
• High global operations costs: With operations in numerous countries, the high licensing fees for Tableau multiplied quickly, reallocating funds that could be used for other global initiatives.
• Need real-time analytics: Tableau's data refresh rates fell short of delivering the real-time analytics required for the client's supply chain and retail operations.
• Low resource efficiency: Tableau's server demands were a bottleneck when handling the client's high-volume data, making Power BI a more efficient choice.
Results:
• Migrated 250+ Tableau workbooks to Power BI: Streamlined data management and reduced complexity allowed for faster business-critical decision-making.
• 300% increase in adoption through COE trainings: Accelerated employee proficiency in Power BI enabled more departments to use data-driven insights for better business outcomes.
• Achieved the same functionalities with increased performance: Reduced lag and faster query processing sped up real-time data analysis.
• Easy navigation and optimized design: Improved user experience increased report usage and reduced the time needed to extract insights.
• Better organized and decluttered reports: Improved data visualizations led to more accurate data interpretation and strategic planning.
Qlik to Power BI
Client: Education First (EF), a global education foundation with offices in 50 countries.
Situation:
• On-premises limitation: Qlik's primary deployment is on-premises, which lacks the flexibility and scalability of cloud-based solutions. This limitation made it challenging for Education First to adapt to remote work scenarios and expand its global operations.
• Lack of data modernization: Qlik's architecture and features were not fully aligned with modern data analytics practices, preventing EF from adapting to the changing business landscape.
• High operational and maintenance costs: The total cost of ownership for Qlik was not only limited to licensing but also included significant operational costs to maintain and update the platform.
• Seasonal needs: Qlik had limitations in quickly scaling up or down to meet the seasonal needs of Education First, affecting both costs and performance.
Results:
• Cloud-based scalability and centralization: The shift to cloud-based Power BI enabled greater scalability and centralized reporting, aligning with Education First's need for flexible and global operations.
• Security and dynamic visuals: Power BI's row-level security and extensive visual options addressed top concerns of security and access to dynamic visuals.
• Low-code architecture for citizen development: Power BI's low-code architecture allowed non-technical users to contribute to analytics efforts, facilitating easier report creation and maintenance.
• Seamless integration with multiple data sources: The ability of Power BI to easily integrate with 20+ SQL databases and 30 Excel sources simplified data management and reporting.
• Reduced costs with scalable features: Power BI's scalable features that adjusted to EF's current needs led to significant cost reductions.
SAP Business Objects (SAP BO) to Power BI
Client: A multinational food, snack, and beverage corporation with 250,000+ team members.
Situation:

• Performance and scalability issues: When dealing with large datasets, SAP BO experienced performance lags, affecting the organization's need for quick insights and scalability.
• Lack of real-time analytics: SAP BO's limitations in real-time data analytics did not meet the corporation's needs for immediate insights, particularly in supply chain and retail operations.
• Weak data governance: The limited data governance tools available in SAP BO made it a less viable choice for a multinational organization requiring strong governance capabilities.
Results:
• 90% faster report loading: Reports that took up to 5 minutes to load in SAP BO load in under 20 seconds in Power BI, enabling quicker decision-making.
• Real-time KPIs with Azure Analysis Services: The back-end Azure Analysis Services in Power BI not only sped up data loading but also provided built-in time intelligence for on-the-go KPI analysis.
• Global data residency: Power BI's cloud architecture supports multiple data residency requirements, helping to meet compliance standards for global operations.
• Improved data governance: Power BI provides superior data governance tools, such as row-level security and audit trails, that enable better control and compliance across the organization.
• Flexible visual reporting: The improved customization options in Power BI allow for more visually appealing and informative reports, enabling deeper insights and better decision-making.
MicroStrategy to Power BI
Client: A global Fortune 500 retailer.
Situation:
• Single platform consolidation: Having migrated their other systems to Power BI for better long-term scalability, the client wants to bring all functionalities under a single platform. Operating on multiple platforms lead to increased costs and complexities in managing different systems.
• Visualizations: MicroStrategy's visualization capabilities are more limited compared to Power BI, which offers more dynamic and interactive visualization options.
• Resource intensive: MicroStrategy is resource-intensive, requiring substantial server and hardware resources, particularly for large datasets and complex analytics operations.
• Deployment challenges: Deploying MicroStrategy on-premises challenging and requires a well-trained IT team to manage the deployment and maintenance of the platform.
Results:
•
Unified reporting and analytics environment
: Centralizing all reports under Power BI simplified the operational landscape and enabled more integrated analytics. This increased cohesion improves collaboration and decision-making.
•
Improved data visualization
: Power BI's superior visualization capabilities improved the quality of insights derived from the reports.
•
Resource optimization
: Transitioning to the Power BI freed up vital server and hardware resources, promoting system efficiency and generating savings on infrastructure costs.
•
Simplified deployment and maintenance
: Adopting Power BI allowed IT teams to concentrate on strategic operations rather than the maintenance tasks associated with on-prem systems.
Client: A leading retail firm that provides office supplies.
Situation:
• Ease of usability: Looker's steep learning curve, particularly for users without a SQL background, is a significant drawback. This learning curve led to higher training costs and decreased efficiency.
• High operational and maintenance costs: The operational and maintenance costs associated with running Looker were high. Costs included licensing fees, server upkeep, and other routine maintenance expenses which compounded over time.
• Inadequate self-service analytics: Looker was not sufficiently equipped to enable self-service analytics, limiting who was able to explore data and generate reports.
Results:
• User-friendly interface: Power BI's user-friendly and simpler interface allowed users to easily customize report views and derive valuable retail insights. This interface improved user experience and promoted effective data analysis.
• Empowered self-service analytics: The client used Power BI's self-service analytics to enable non-technical team members to create insightful reports and dashboards. A data-driven culture is now promoted across the organization.
• Cost-efficiency and savings: The shift to Power BI has brought down the total cost of ownership for the client. Through optimized resource utilization and reduced infrastructure costs, the client could reallocate the budget to other strategic initiatives.
• Seamless sharing of findings: Thanks to Power BI's built-in export functionalities, users can seamlessly share their findings with others. This functionality was an efficient tool for meeting the client's reporting needs.
Client: A global service provider in the health, tax & accounting, legal & regulatory, and finance industries.
Situation:
• Performance bottlenecks with high volume reporting: Due to the high volume of reports, the existing Cognos system faced performance bottlenecks and high costs per click.
• Enterprise integration: Power BI offers better compatibility with the client's existing Microsoft solutions, streamlining business intelligence tasks.
• Limited UI features hampering operations: The limited UI features in Cognos negatively affected the ease of business operations, making report generation and customization a challenging task.
Results:
• Cost per click reduced by 50%: The migration led to a remarkable ~50% reduction in cost per click, generating significant cost savings and optimizing the use of resources.
• Better visuals and UI increased report use: Power BI's higher quality visuals have boosted the use and creation of reports, enabling better data interpretation and insights extraction.
• Rapid data loading and customization: Power BI can load dense data in less than 3 seconds, allowing the running of reports without delays. This speed improved efficiency and user satisfaction.
• Mobile and cloud-enabled business processes: Adopting Power BI introduced advanced mobile and cloud capabilities to the organization, modernizing the business intelligence setup.
***
While our six-step migration strategy provides a general framework for success, each organization's needs are different. Need help achieving a successful Power BI migration? Partner with us by reaching out to Sales@MAQSoftware.com.